FR. 31.5.2019 Vernissage: Envie Koepke "Who doen't love cocks"  (in context of reeperotica 2019)
Till September 2019: #HamburgErotica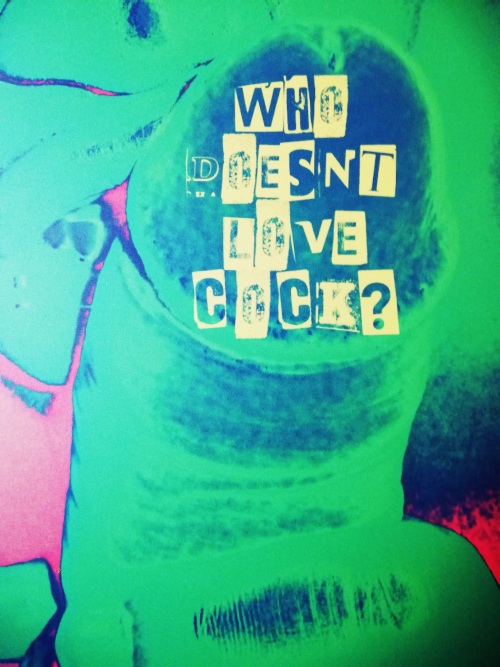 WHO DOESN´T LOVE COCK?
Envie Koepke is an underground artist who grew up in Freiburg im Breisgau, a tailor and photographer who worked on his own myth as a child and adolescent. His shamelessly vulgar and very open attitude, shameless outfits and visual stagings caused a lot of talk in the clubs and at all parties in southern Germany, which of course was a controversial topic.
Eccentric artists like Madonna, Prince, Michael Jackson and David Bowie are his greatest idols.
In addition, he thrilled for the long-gone New York times in the late 70s early 80s as at the time still unknown artists / innnen as Maripol, Madonna, Fab 5 Freddy, Futura 2000, Keith Haring and Jean Michel Basquiat in one Clique were and the nightlife together in the Roxy Club, Paradise Garage and Studio 54 unsafe.
Envie has often mentioned these times as inspiration.
Where did the enthusiasm for magnificent tails / magnificent pistons?
He says … "Women have always been exposed to the public, undressed, naked presented … now it is time that you publicly presented men with their erect tails."
Whether hetero man, hetero woman, gays or bisexuals … "Beautiful big fat cocks hypnotize and fascinate us all AUTOMATICALLY … whether we admit it or not, it's fact!"
In this sense
WHO DOES NOT LOVE COCK?
#HamburgErotica
The Erotic Art Museum presents the #HamburgErotica. The principle is simple: each artist gave one picture or exhibit for the exhibition. The curators have visited many Hamburg studios in recent months and collected the best and hottest from the Hanseatic city. The international exhibition presents artists who have found their home in Hamburg. Represented are u.a. Lithuania, Poland, Spain & Czech Republic. On display are photographs, paintings and sculptures as well as a special doll. The painters come from different areas. Pop Art, Abstract, Figurative. The photographers have their background in erotic photography. Be curious about an erotic generation meeting of young and established artists. The exhibition will be on view in the Erotic Art Museum until September 2019 and will be regularly renewed with new works by the artists in a 1: 1 exchange.
A lot has happened in the museum: the exhibition of the photographer Vera Bruß is due. Get a glimpse of our museum and see how Vera Bruß makes her pictures.
For sending the material, please contact:
PUBLIC ADDRESS presseagentur
Hoyer & Rammoser OHG • Parkallee 18 • 20144 Hamburg
Niko Jedicke
Videoproduktion
Fon: +49 (0)40 – 41 32 84 17
Fax: +49 (0)40 – 44 87 02
E-Mail: niko.jedicke@publicaddress.de
Homepage: www.publicaddress.de
© Public Address Presseagentur