Current Exhibition: "The Sound of Burlesque"
Current Exhibition: "Plug + Play – 150 Jahre Vibrators in DDR and BRD"
See now the erotic collection "reeperotica". More here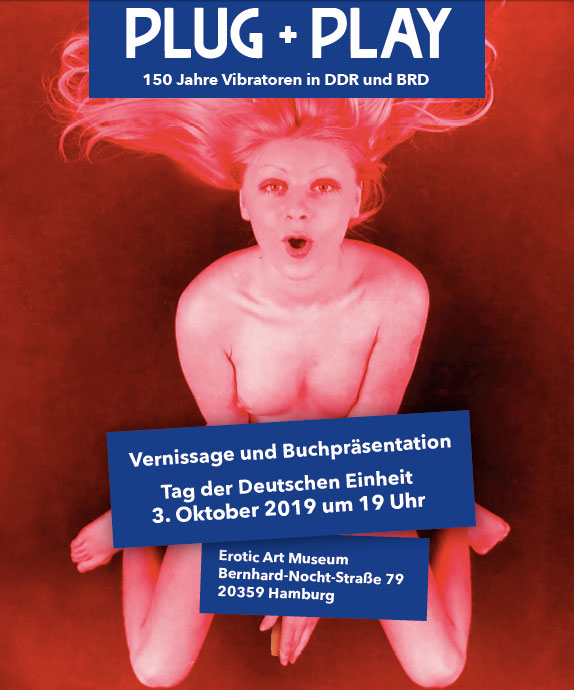 "Now comes together what belongs together!"
What do coffee grinders, crow's feet and the clitoris have to do with vibrators?
And why do orbital sanders and centrifuges combine the sexuality of the GDR with that of the FRG?
To mark the 30th anniversary of the fall of the Berlin Wall, the exhibition "Plug + Play – 150 Years of Vibrators in the GDR and the FRG" also looks at the similarities and differences in German-German bed history. What did the first vibrators look like? How did the GDR vibrate? And what do "emperors" and "wild riders" have to do with it? True to the motto "Now come together, what belongs together", this exhibition speaks openly about a theme that unites us all: sexuality and masturbation. Numerous entertaining exhibits, films and photos await the visitors. The vernissage will be crowned by the book presentation of the illustrated book "Plug + Play 150 Years of Vibrators – A Jubelband", which contains all these beautiful vibrators and their exciting history.
Current Exhibiton "The Sound of Burlesque"
They are unique in their way of provocatively dealing with themes that are already challenging: Roman Gilz and Gordan Nikolic work primarily on the representation of sexually dominant femininity. As part of the Reeperbahn Festival, the artist duo appropriately opens their new exhibition "The Sound of Burlesque" at the Erotic Art Museum.
Gilz and Nikolic have optically repackaged and portrayed stars of the burlesque scene in clubs, studios and backstage. In the programme accompanying the exhibition, the former guitarist of the rock band Rudolf Rock & die Schocker, Micky Wolf, takes over the sceptre, frees Tarantino sound from its tight corset – and burlesque stars drop their covers.
Definitely something for fans of live burlesque rock, if the genre already exists. If not: with "The Sound of Burlesque" at the latest, this genre has become indispensable. Also not for Biedermänner and – women.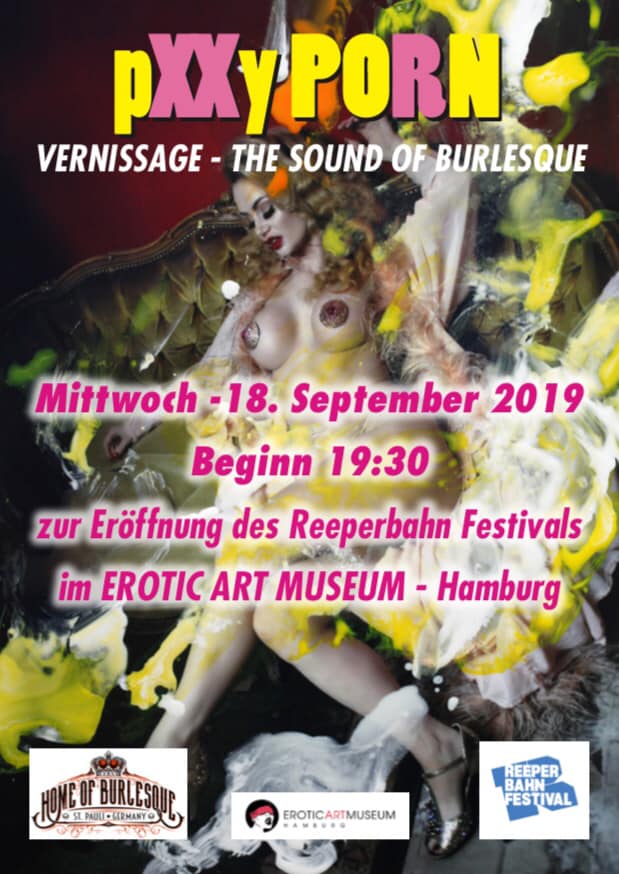 A lot has happened in the museum: the exhibition of the photographer Vera Bruß is due. Get a glimpse of our museum and see how Vera Bruß makes her pictures.
For sending the material, please contact:
PUBLIC ADDRESS presseagentur
Hoyer & Rammoser OHG • Parkallee 18 • 20144 Hamburg
Niko Jedicke
Videoproduktion
Fon: +49 (0)40 – 41 32 84 17
Fax: +49 (0)40 – 44 87 02
E-Mail: niko.jedicke@publicaddress.de
Homepage: www.publicaddress.de
© Public Address Presseagentur